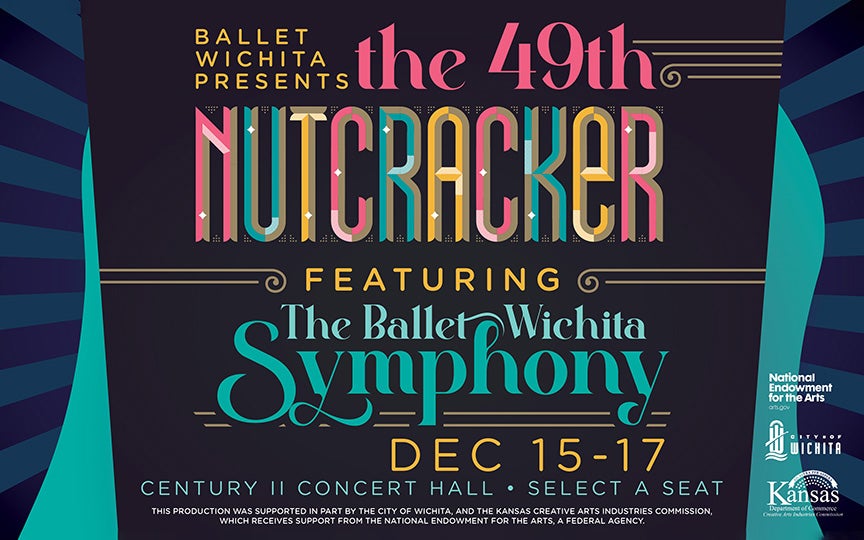 Ballet Wichita
The Nutcracker Ballet
Concert Hall
Event Details
This December, Ballet Wichita is set to whisk Wichita away on an enchanting journey into a mesmerizing world inhabited by dancing dolls that come to life, mischievous mice that dare to tango, and snowflakes that glisten like a million stars. Get ready for the most anticipated event of the holiday season – the Nutcracker Ballet!
Under the visionary direction of Ballet Wichita's Artistic Director, David Justin, this 49th annual production promises to be an opulent return to the enchanting fairy-tale that has cemented the Nutcracker's place as the crown jewel of the holidays. Prepare to be spellbound by the sheer spectacle of sumptuous costumes and breathtaking scenery, masterfully conjured by the celebrated Wichita set designer Michael Downs. This is the year to step into the magical Kingdom of Sweets, a place where dreams come to life, and where Nutcracker memories are destined to last a lifetime.
As the curtains rise, you'll be swept away by the evocative strains of Tchaikovsky's lyrical and dramatic score, conducted with passionate precision by the Guest Maestro Steven Byess. Brace yourselves for a captivating performance featuring guest artists and a stellar cast of over one hundred local dancers, each a shining star in their own right. It's not just a ballet; it's a holiday spectacle that promises to ignite your imagination and transport you to a world where the Magic of the Season truly comes alive.